100% Renewable Energy: A Brighter Future awaits Australia
The Solar industry has been making breakthrough advances every coming year, critics surrounding the Solar industry have continued to make their opinions heard on the topic throughout Australia.
A study conducted by The Australian National University School of Electrical Engineering, indicates that Australia could easily hit its 100% renewable status by the 2030s. This goal could be achieved if the current trend of Solar power installation and wind continues over the coming years.
10,400MW of new sustainable energy is set to be included in 2018 and 2019 – at this point it will achieve its Renewable Energy Target much sooner than previous years. Projections demonstrate that Australia will have 29% renewable energy in 2020, and 50% in 2025 until it reaches 100% in 2030s.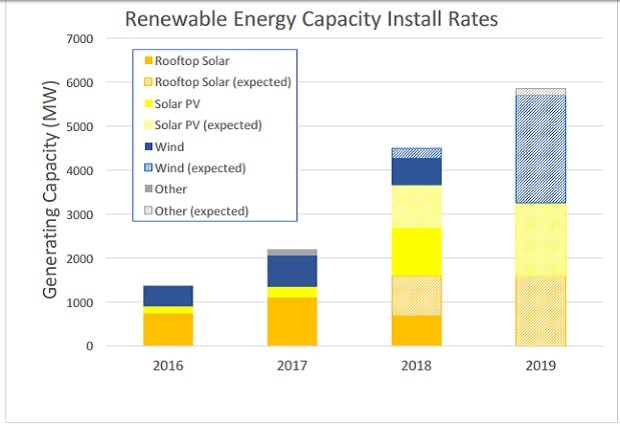 Rooftop solar, large scale solar, wind and other generating capacity completed or expected to be installed for 2016 – 2019.
(Source: ANU)
If renewable energy maintains its positive track, the following instances will occur:
Comfortably

exceed

the 2020 large scale Renewable Energy Target (LRET) of 33,000 GWh

Be capable of supplying up to 29%

renewable electricity in 2020,

50% in

2025 and 100% in

the early  2030s

Achieve 26% emissions reductions in the electricity sector by 2020/2021

Meet its entire 26% Paris emission reduction target for the whole economy in 2024/2025
A leading Renewable Energy researcher at ANU, Professor Andrew Blakers stated, "The Australian renewable energy industry is unequivocally demonstrating that it has the technical capability to deliver vast quantities of cheap, reliable, secure and zero-emissions energy". However, Blakers mentioned that technology and infrastructures are important factors in order to sustain the growth of solar and wind installations. Surprisingly, the current rate of solar and wind installation makes Australia a leading country surpassing China, Japan, the EU and the US, and keeps the country on track to reach 50% electricity by 2024 – far ahead of Labor's federal target date of 2030. It has important implications for Australia. Blakers also suggested that not only would the electricity sector meet its "share" of the current Paris climate commitment way ahead of the target year, but this could also meet the economy-wide target of 26-28% reduction in emissions by 2030.
The chart above proves that there are lots of projects planned to be deployed in the future which are essential factors to be taken into consideration in reaching the Renewable Energy Target of the country. According to the research, the new capacity will be divided approximately equally between large-scale solar photovoltaics (PV), wind farms and rooftop solar PV.
Here are some of the major considerations that will affect the continuous deployment of Australian renewable energy projects:
• Large-scale Generation Certificates (LGCs) will continue to be issued to accredited new generating
capacity by the CER after 2020 out till 2030.
• Wholesale market opens wider opportunities as more companies can now perceive the economic and ecological advantages of clean energy.
• The price of wind and PV will continue to fall rapidly, opening up further market opportunities, as
well as placing downwards pressure on electricity prices.
• Increased deployment of electric vehicles in place of internal combustion vehicles and increased
deployment of electric heat pumps in place of gas for water and space heating is expected to increase
electricity demand. Since nearly all new generation capacity in Australia is PV and wind, a sharp
increase in demand is expected to be met by a large increase in the deployment rate of PV and wind.
• Retiring existing coal power stations will be replaced by PV and wind.
The possibility for Australia hitting 100% on renewables could transpire sooner than currently expected. Sceptics are still supporting coal to fuel current energy sources and are dismissing renewable energy all together. Contrastingly, data implies that we have installed more solar panels and wind projects than ever before, securing a brighter and cleaner future for the environment and all Australians.
Want to see more article like this? Subscribe to our mailing list using the form below.
Article Source:
Baldwin, K., Blakers, A. & Stocks, M. (2018, September 10). Australia's renewable energy industry is delivering rapid and deep emissions cuts. Retrieved from http://energy.anu.edu.au/files/Australia%27s%20renewable%20energy%20industry%20is%20delivering%20rapid%20and%20deep%20emissions%20cuts.pdf