What Is In Store for Australian Solar Industry This 2019?
Though 2018 has been a roller-coaster ride, there is no doubt that it has been an amazing year for Australian solar industry. There are significant milestones for the industry and statistics on solar installations notched up in the past year. But will 2019 also be a good year for solar PV in terms of solar installations, policies and government schemes?
Solar Installations
2018 has started a record-breaking pace that will be sustained this year. Based on data from the Clean Energy Regulator, during 2018 and 2019 Australia will install about 10,400MW of new renewable energy, comprising 7,200MW of large-scale renewables and 3,200MW of rooftop solar (see charts below).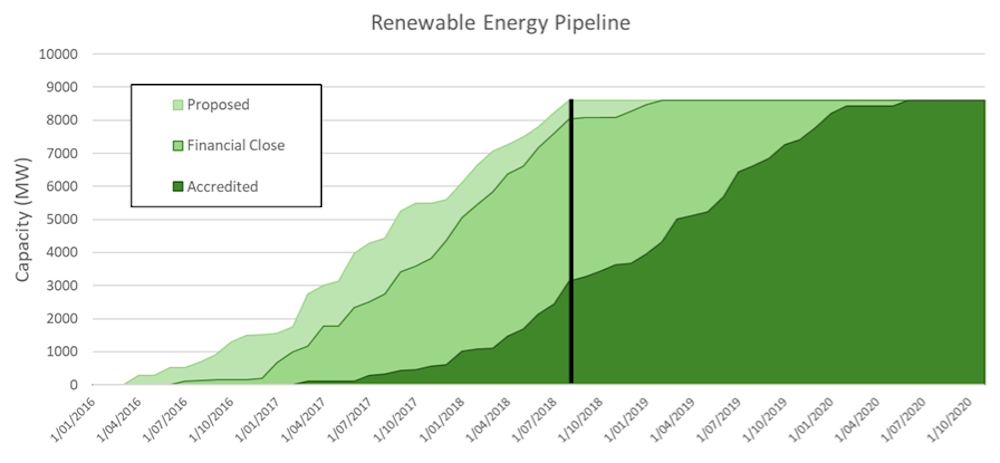 Australia has a solar pipeline of more than 30 gigawatts as a result of the country's Large-Scale Renewable Energy Target, corporate power-purchase agreements (PPAs), state auctions and merchant projects, according to Wood Mackenzie solar analyst Rishab Shrestha. With all these overwhelming forecast, it is expected that solar PV will be at its highest rate of installation in the country. Tim Buckley, Director of Energy Finance Studies at the Institute for Energy Economics and Financial Analysis (IEEFA) in Sydney said, "2019 is likely to see a continuation of new renewable energy infrastructure projects being commissioned. The Australian Energy Regulator's report of December 2018 estimates 2018/19 will see a record 3.8GW of distributed and utility scale renewables investment, with 2019/20 likely to see the second highest rate of new capacity installed at 2.75GW, almost all again being renewable energy." Looking forward, the momentum seems to be in favor with renewable technology industry.
SRES/STCs
STC support from Australia's Small-scale Renewable Energy Scheme will decrease this year. As a result, the solar panel installations cost in the country. Since Small-scale Renewable Energy Scheme (SRES) is the major federal solar panel rebate scheme that most of us are very familiar with, large number of Australians have used to their advantage already. It's still going all out and accessible to all Australians through 2019. This current STC's plan is the leader Australian solar rebate program. While there was a recent call of the SRES abolishment, the scheme will be in place until 2030.  However, as this date approaches, the financial benefit of STCs will be diminished over this period. Right now, the rebate value is high at $35 per STC. Coupled with cheaper panel costs, the time is very useful for investing in solar right now. Furthermore, Demand Manager forecasts the cost of the SRES is expected to increment 51% this year to $1.64 billion. For a residential house using 130kWh of electricity per week, the cost of the SRES as an immediate impost on their power bill in 2019 is forecast to be in the order of $71 including GST.
Solar Policies and Schemes
Like 2018, 2019 will also be a year of solar-supporting programs for Australia. The following incentive programs are still placing to help the country in their solar needs.
There are two recent announcements about NSW particular rebates for solar panels and batteries for NSW residents going into 2019.
Up to 3,400 NSW households will be able to apply for a free 2.5kW solar system
NSW residents who invest in smart energy technologies, such as solar batteries or smart air-conditioners, will be eligible to receive NSW Government incentive of up to $1000 over a 3-year period.
Under Andrews government, there will be a Solar Homes Package scheme. The Solar Homes Package will see up to 650,000 Victorian homes eligible for a maximum 50% rebate on solar panels, up to $4,838 on the installation of a battery storage unit for 10,000 homes and a $1000 rebate for 60,000 solar hot water systems.
While there are no solar/battery rebates as such, there are interest-free loans and/or grants for solar and battery storage. Part of which is $3000 grants and $6000 loans for 500 batteries. This follows a scheme which began in June, to offer interest-free loans of up to $4500 for solar systems
There are solar panel rebates and battery rebates under the banner of The Sustainability Incentives Scheme
South Australian residents can receive up to 20% for solar panel systems with outputs 1.5kW to greater than 20kW. Rebates are capped at $5,000 for systems greater than 20kW. Rebates are categorised based on system output and other criteria.
The Home Battery Scheme which was launched in 2018, allow South Australians to claim up to 50% on the purchase of a home battery storage system, capped at $5000.
Unfortunately, Western Australia has very limited solar scheme to support their community aside from the feed-in tariffs. We will find out more this year if there will number of similar, if not much bigger, solar schemes being rolled out by other state governments.    
Want to see more article likes this? Subscribe to our mailing list using the form below.
Article Sources:
"2019 Australian Government Solar & Battery Rebates: Federal and State by State". Retrieved from https://instylesolar.com/blog/2018/12/05/2019-solar-battery-rebates/
Deign, J. (2018, November 20). 29 Renewable Energy Markets You Need to Watch Out For in 2019. Retrieved from https://www.greentechmedia.com/articles/read/29-renewable-energy-markets-you-need-to-watch-out-for-in-20191#gs.7yXstD1v
 Baldwin, K., Blakers, A., & Stocks, M. (2018, September 10). At its current rate, Australia is on track for 50% renewable electricity in 2025. Retrieved from https://theconversation.com/at-its-current-rate-australia-is-on-track-for-50-renewable-electricity-in-2025-102903