Types of Solar Panel Technology
Solar panel technologies are ever-evolving. Many solar panel manufacturers keep on updating and innovating their products to address the needs of the market. Aside from creating more affordable solar panel technology, solar experts and researchers are not stopping to create solar components that maximise the energy harnessed from the sun. Solar panel technology and innovation have improved a lot and have been continuously improving over the years.
In fact, over the past years, many solar panel technology has surprised us to achieve the necessary efficiency and reliability needed by the market with optimal results. Here's some solar panel technology that you may encounter as you find the perfect solar panel for your home or business.
1. PERC
PERC, which means Passivated Emitter and Rear Cell or Passivated Emitter and Rear Contact, is a solar panel technology made to achieve energy conversion efficiency by adding a dielectric passivation layer on the rear of the cell. It is additionally more cost-efficient as it permits energy output to be boosted because of efficient energy conversion. The dielectric passivation layer contributes to the increase of efficiency by reducing electron recombination, increasing the solar cell's ability to capture light and reflecting specific wavelengths that normally generate heat out of the solar cells.
The most popular example of this type of technology is Jinko Solar Mono PERC Panels. These types of panels can reach up to 19.58% higher module conversion efficiency which is pretty decent among other brands in the market.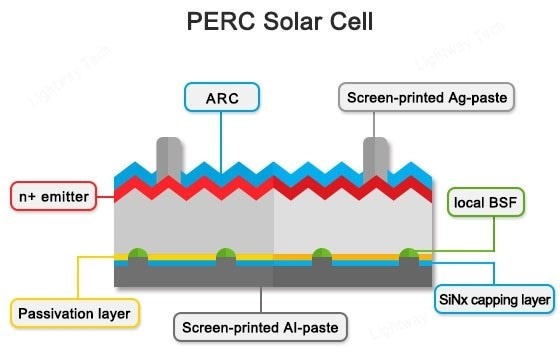 (Image credit: https://www.powerfromsunlight.com)
2. MWT Technology
One of the newest solar panel technology in the market is MWT Technology or Metal Wrap Through Technology which recently created back contact cell innovation. It gives another cell structure that disposes of electrodes on the front and optimises the use of light and upgrades reliability. MWT Back Contact cells connect the electrodes from the front to the backside utilizing conductive paste. This inventive structure highlights with no bus-bar and no ribbon at the front.
Sunport Power Panels are a perfect example of modules that use this kind of technology. As a result, the following improvements have been apparent in the Sunport Power modules.
(Image credit: https://www.sunportpower.com)
3. MBB
MBB or Multi Busbar technology uses is a metallic strip that runs down each cell and housed inside panel boards for local high current power distribution. These thin wires carry electrons through the solar panel to become more efficient and generate more current. Solar cells can be equipped by 12 or 16 busbars instead of 4, 5 or 6. This means the modules can provide a higher power output and higher reliability. Some solar manufacturers use this technology like Astronergy, Link Energy, JA Solar and SolarEdge.
(Image credit: https://www.cleanenergyreviews.info)
4. IBC
Interdigitated Back Contact (IBC) cells might be one of the most confounded advancements used to create solar panels, however, it additionally offers efficiency that can't be disregarded. Rather than setting the contacts in the front of the cell, they place them on its backside. This enables them to accomplish higher efficiency because of decreased shading on the facade of the cell, while simultaneously electron-opening sets produced by the absorbed light can still be collected on the backside of the cell. As a result, there will lower shading losses and lower series resistance.
5. BiFacial
Bifacial solar panel technology has been accessible for quite a while yet is beginning to be popular in the market as the cost to manufacture continues to decrease. In essence, Bifacial modules produce solar energy from the two sides of the board. It uncovers both the front and backside of the solar cells and can deliver up to 27% to 30% more power than conventional modules. Bifacial solar panels ordinarily utilize a glass front and clear back polymer backside to embody the cells which permits reflected light to enter from the backside of the board. Bifacial modules come in numerous designs. Some are framed while others are frameless. Some are dual glass and others utilize clear backsheets.
(Image credit: https://www.cleanenergyreviews.info)
If you want to know more details about the latest solar panel technology and product offering, give us a call at 1300 887 557 or send us an email at info@powerarksolar.com.au
Article Sources:
Power from Sunlight (2017, October 18). Why Is PERC Solar Cell Technology Important?. Retrieved from https://www.powerfromsunlight.com/why-is-perc-solar-cell-technology-important/
Pickerel, K. (2018, April 2). What are bifacial solar modules?. Retrieved from https://www.solarpowerworldonline.com/2018/04/what-are-bifacial-solar-modules/ 
Sunport Power. MWT Technology. Retrieved from https://www.sunportpower.com/why-mwt/  
IBC Solar (2018, September 13). New module technologies: LHS, half-cut, MBB. Retrieved from https://blog.ibc-solar.com/2018/09/new-module-technologies-lhs-half-cut-mbb/
Want to see more article like this? Subscribe to our mailing list using the form below.