Rooftop Solar and Commercial Solar: An Overview
The performance of the solar industry is affected by two large portions, the (1) Residential Rooftop solar and (2) Commercial solar. These two sectors of the industry largely influence the year by year record of the country in terms of solar installation and output.  The significant increase in installation and energy output is generated from solar PV which is a combination of homes and businesses putting solar on their roofs. Households and businesses who have existing solar system have also contributed to the increase by having a better understanding on how to maximise their solar PV system. Both sectors keep breaking records with the fact that 10 years ago only 20,000 solar systems were installed across the entire country.
Rooftop Solar
According to last year's record from Clean Energy Council (CEC), the number of rooftop solar systems installed across the country is at more than 2,001,130 – with approximately 20.3% of all Australian households with solar panels installed. The more than 2 million installations represent a capacity of 7,878 gigawatts which is an impressive amount of energy. Moreover, CEC says that an average of six (6) solar panels are being installed every minute in Australia.
As a breakdown, here is the data from CEC that shows the number of systems installed per state. As expected, rooftop solar market are continuously booming in Queensland, which leads all states with 30% of homes that chose to save money and reduce environmental impact. Clean Energy Council Chief Executive Kane Thornton said households with rooftop solar are saving on average of about $540 per year on their electricity bills.
(Source: Clean Energy Regulator)
It is good time to celebrate the performance of residential solar in the country but based on a report by the University of NSW and Australian PV Institute prepared for the organisation, Solar Citizens states, there is still workable and suitable residential rooftop space in Australia to host 43GW to 61GW of solar power capacity of which only 12 to 16 percent of this space is being used. While there are proposed and existing solar incentive programs available for Australians to encourage them to have a solar system, there are still more that could be done particularly for those who are in the community not covered by the solar loan schemes. Aside from the houses who don't have PV yet, the solution to these problem can also be solved by targeting building dwellers who are not covered by solar. A section of the community that find it hard to install solar are those who live in apartments.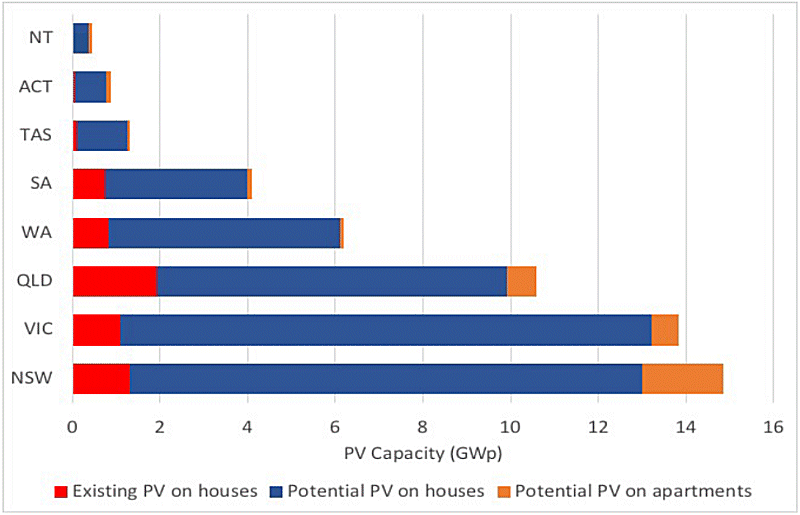 (Source: UNSW/APVI)
National Director Joseph Scales says, "The report identified that the lion's share of this PV potential—93.5%—is on stand-alone houses, but up to 4GW is on apartment buildings. To unlock all this potential there's still work to do to help low-income households, renters and people living in apartments get access to solar." The increased in rooftop small-scale solar has proceeded into 2019, with total installation for the first month of the year achieving 159.4MW – a record for the month that is normally influenced by the summer holiday season.
Commercial Solar
Another sector to be taken into account in reviewing the solar performance of the country is the commercial sector. As important as the rooftop solar, commercial side of the solar industry has been showing great achievement in the past years. In fact, the six solar panels installed every minute in the country for residential solar will be 10 to 20 solar panels if large solar projects are considered.
According from latest data of Clean Energy Regulator, Australia will be installing about a total of 10,400MW of renewable power source in 2018 and 2019, including 7,200MW of large-scale renewables.  There's the actual and probable deployment of large-scale (more than 0.1MW) systems in Australia. About 4,000MW per year is currently being installed. In 2018, there were 68,000 commercial systems installed and we can expect that this year installation record will surpass last year's.
(Source: SunWiz)
"The chart illustrates the residential market has finally recovered, and indeed set a new record 16% higher than its previous record set in 2012. What makes 2018 different is the 500MW commercial STC market, which was practically non-existent in 2012."(Sunwiz).
Whether in home or business, it is important to note the both sectors have largely contributed in the country's drive for renewables. This couldn't be achieved without the collaboration from different sectors like government, households, schools and solar manufacturers. There are more to be done for solar in the country but it has been a good start for PV industry to promote clean energy, energy cost reduction and minimal ecological footprint. The energy target could be possibly met if Australians will work on the same goal.
Want to see more article likes this? Subscribe to our mailing list using the form below.
Article Sources:
Vorrath, S. (2018, December 3). Two million Australian households now have rooftop solar – and they vote. Retrievd from https://reneweconomy.com.au/two-million-australian-households-now-have-rooftop-solar-and-they-vote-90424/
Bloch, M. (2018, December 11). Australia's 43GW – 61GW Of Residential Rooftop Solar Potential. Retrieved from https://www.solarquotes.com.au/blog/rooftop-real-estate-solar-mb0858/